Christmas ornaments tell a personal history. From "Baby's 1st Christmas" to her the first trip to Disney, every year when these special keepsakes re taken out of the Christmas box, a flood of memories comes rushing back. Remembering the stories of our past and those who may no longer be with us is both a loving and bittersweet experience.
Right now, your daughter may have just embarked on her Girl Scout journey. You may not know what the future holds, but one thing is for certain, this year is special. Why not commemorate it with a special Daisy Girl Scout Christmas ornament?
Zazzle has a whole line of Girl Scout ornaments that can be personalized with your daughter's name and the year. When she is all grown up, she will appreciate this piece of her childhood history.
So get out your camera, take a picture of her with her vest or tunic on, and create an awesome ornament!
This photo ornament comes in six different shapes.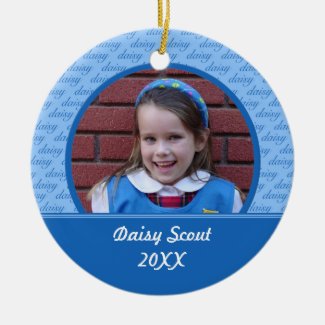 Daisy Scout Ornament by Scrappintwins
Browse more Daisy Ornaments
This Daisy ornament comes with girls in different hair colors and skin tones.